Generations Chorus

April 2013 - AC&C Leominster, MA
Photo by Matt Avery, Avery Photography, Hudson, MA
Celebrating its 10th Anniversary
Generations Chorus brings family members of different generations across international boundaries to sing together every spring, at the Area 2 Convention & Contests (AC&C).
History
Generations Chorus was originally founded in 2004, as the Area 2 Youth Chorus. Its purpose was to give youth members, ages 23 and under, a chance to meet one another, get acquainted, learn and have fun singing together. It was the first-ever youth chorus in Harmony, Inc. also directed by a youth member. When it was discovered that none of the young girls could sing bass, a few moms pitched in – and the chorus was born.
The Area 2 Youth Chorus first performed at AC&C 2004 in Montreal, under the direction of Jennifer (Jen) Wheaton. It was an immediate hit. The chorus performed so well and the audience's reaction was so positive that Harmony's International Board of Directors approved founding a Harmony Youth Chorus, which debuted later that same year at IC&C in Rochester, NY. The Harmony Youth Chorus later became known as the Minor Chords.
In its second year, Area 2's youth chorus decided upon a new name: Generations Chorus. Over the next few years, Area 2 invited other relatives of the girls (not just their moms) to participate, expanding the chorus to include sisters, aunts, cousins, grandmothers, etc. Jen Wheaton continued to direct the chorus for the next four years. In 2009, Christina Tramack was named director and continued through 2011 (with her mother, Renee, substituting in 2010 when Christina had a school conflict). In 2012, Samantha Tramack, Christina's younger sister, was appointed Generations Chorus' new director.
Today, Generations Chorus includes mother/daughter teams, 'sister acts,' three-generation families, plus other combinations of relatives. All youth members of Area 2 (now ages 25 and under), plus relatives of any age (not just minors) can be members. Truly, it is an international, inter-generational chorus.
Samantha Tramack, Director
Samantha Tramack first joined New England Voices in Harmony in 2007 when she was 9 years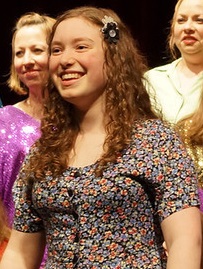 old. Currently 15, she became director of Generations Chorus in 2012, when she was a high school freshman.
Samantha comes from a long tradition of family singers. A fifth-generation barbershopper on her father's side and third-generation on her mother's, Samantha has the vocal ability and "ear" to sing several different parts.
In her six years as a Harmony member, Samantha has already won six international medals with her chorus and competed with three quartets! In 2009, she sang lead with Three and a Half. Samantha currently sings tenor with Sister Act, 2012 International 11th Place Quartet and winner of the Findlay Plaque (novice quartet award), along with her sister, Christina, and Amanda and Andrea Hutchings, sisters from Maine-ly Harmony. Samantha also sings baritone with Family Fun, 2013 Area 2 6th Place Quartet, with her mother, Renee, and another mother-daughter team, Diane and Carey Fagerstrom.
Samantha's mother, Renee, sister, Christina, and her grandmother, Pat Longchamp, charter member of Champlain Echoes, also sing with Generations Chorus.
Samantha is very strong vocally and also is a member of her high school's chorale, concert choir and jazz choir, and also band.
Samantha consistently demonstrates a maturity far beyond her years. We are fortunate to have her direct Area 2's Generations Chorus.
Link to: AC&C 2013 Candid Photos from Matt Avery, Avery Photography, Hudson, MA